Rewarding Dedicated Staff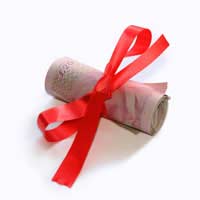 Recruiting and training staff is an expensive process so it is beneficial for companies to retain their best staff and reward them for dedicated service. There are a number of different employee benefits that companies can use to reward staff from financial incentives such as bonus schemes to non financial benefits such as extra holidays. These extra benefits make staff feel respected and appreciated and show other employees how dedication is rewarded.
Increasing Benefits
A member of staff that has been with the company for a long time is often rewarded by being given more employee benefits. Sometimes these are set, such as receiving an extra day's holiday each year, or are given in a numerical form to be used for benefits as they wish. This is often a guaranteed scheme that increases with each year of service or when staff members are given a promotion.
Performance Related Pay and Bonuses
A financial incentive is always popular and companies can choose to offer performance related pay or bonuses. Performance related pay is usually set on a sliding scale dependent on sales targets, exam results or some other achievement. Bonuses are a bit more ad-hoc and can be handed out at various times to acknowledge a particular action.
Non-financial Incentive schemes
A company may choose to offer non-financial incentives instead of increasing benefits or offering money to reward staff. These can vary greatly from company car upgrades to extra days off or specific treats such as holidays or spa days. They can be tailored to the staff member or be a set scheme that is reached by exceeding performance targets, through promotion, or for specific lengths of time worked.
Flexi-Time
In the modern world of work the opportunity to work flexibly is becoming more and more popular. Staff that have been with the company for a long time can be rewarded for their dedication by being given more options about how they work. This may include flexible working hours, job share options or the opportunity to work some days from home or complete compressed hours.
Long service rewards
As well as rewarding staff on a yearly basis and for specific achievements, companies may want to recognise a landmark commitment such as 5, 10 or 20 years. This is often done by giving them shares in the company or some kind of heightened incentive that is not open to other staff members. This gives employees something to look forward to and work towards when they are on the cusp of these lengths of service.
Rewarding dedicated staff is important for both the employer and employees. It saves the company money by retaining the best staff and it increases staff morale by showing that hard work is recognised. Companies have many different options for how they reward staff and need to think about which one suits their ethos, budget and approach the best. Long term service awards are a great way to mark long service but it is also important to reward staff at smaller intervals as well.
You might also like...