Ensuring Staff Understand Their Benefits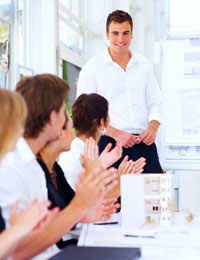 Establishing an employee benefits scheme can be an expensive proposition for a business. Regardless of the nature of the benefits being offered, or the scale on which they are provided, any staff benefits will represent a significant outlay for an employer, and there are a number of reasons why a company would wish to institute such a scheme. In the first instance, many employers have a legal obligation to offer benefits of some sort, for example a staff pension scheme, however basic. However, above this companies may extend further benefits either through goodwill and as a gesture of thanks to their staff, or as a solid investment, for example to increase productivity through building staff loyalty or giving incentives to encorage employees to work harder. Regardless of the reasons for establishing a benefits scheme, their value is completely undermined if staff are not fully aware of their existence or do not understand their implications. As such, employees must use a range of tools to ensure that their staff have a full understanding of the benefits that they are being offered.
Communication
Good communication is essential within any business if it is to function in as productive and successful a manner as possible. No serious business would expect to succeed if communication amongst staff, and between management and the rest of the workforce, was not occurring in the way that it should. As such, it is shocking that such a large number of businesses fail to adequately inform their staff of the benefits that they are being offered. A company with a workforce of around 1,000 can expect to pay £30,000 to £40,000 in administration for a pension scheme alone; this is a significant investment, and it is therefore surprising that many companies are not using many of the most basic tools available to them to ensure that their return on this investment is maximised.
Communication of this sort need not be complicated. However, the way in which you go about this process will depend entirely on the nature of your business. Frequently, a series of emails will suffice; these messages should outline the characteristics of the benefits scheme, and explain to staff how they can take advantage of the benefits that are available to them. For example, if you operate a company pension scheme to which employees contribute from their salary, you should explain how and when this is happening; many pension contributors are not aware that they are paying into such a scheme. However, depending on the complexity of your benefits package, you may need to take extra steps. For example, if you are offering a self service benefits administration process, you may consider providing employee training for the system. While this may cost money in the short term, the advantages of the scheme will be magnified in the long run. You may also wish to look at total reward statements, which give periodic reports on the cash value of benefits taken by individual members of staff. Further information on total reward statements is available in an article elsewhere on this site.
The ways in which you ensure that your staff has a true understanding of the benefits to which they are entitled will depend on your individual business. However, making use of all of the tools at your disposal to achieve this end will ultimately increase the return on your investment.
You might also like...