Options for Administrating Benefits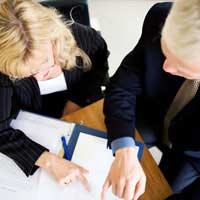 Implementing an employee benefits scheme can represent a significant amount of work. In the first instance, it is important that the process begins with a process of consultation between staff and management. When and if employees choose to apply for benefits, in order for the process to be worthwhile on all sides it is vital that the benefits offered are of interest to the staff. Subsequently, the company must investigate the ways in which they can provide benefits in an affordable and efficient manner. Looking at ways in which the benefits scheme is administered is vitally important, particularly as it can have significant cost implications for the company in question.
Responsibility for Administration
Amongst the first considerations for any business considering establishing an employee benefits scheme is whether they wish to out-source the administration of the scheme, or take responsibility for this process in-house. There are potential advantages and disadvantages to both scenarios, and these are expanded upon in an article elsewhere on this site. However, in essence the choice regarding whether or not to outsource will relate to the size of your workforce. If yours is a very small company then you are unlikely to be able to secure the group discounts that would make outsourcing financially viable. As such, you may well find that you are paying over the odds for the administration of your scheme. However, a small company tends to have significant existing demands upon the management team's time; in this way, you may consider that paying a slight premium for outsourcing is worth it if it frees you up to do other jobs. As the size of the workforce grows, however, the attractions of outsourcing become more obvious. Administering an employee benefits scheme for 1,000 employees is a very time intensive task, and at this level you would be able to secure some form of bulk price reduction. As such, outsourcing becomes a better answer at this stage.
Methods of Administration
Aside from the question of who will administer your employee benefits scheme, there are also questions to be answered regarding the method by which the scheme will be administered. You should consider, for example, whether or not it is in your company's interests to implement a self-service scheme. This type of administration can represent a significant saving in terms of time and money, for both employer and employee, as it allows the employee to perform many of the administrative tasks, such as updating their contact details and applying for leave. In exchange, they are likely to be given the option of better control over their own benefits.
Self service schemes are not suitable for every company, however. For example, if you have a particularly small workforce, the cost involved in establishing such a scheme will probably render it impossible. In these cases you are likely to have to employ an individual to administer the scheme, either on a full- or part-time basis. As has already been mentioned, this person or organisation may be an existing staff member or a third party.
There are a number of important questions to be answered when looking at the administration of an employee benefits scheme. In reality, however, cost concerns and workforce size will make many of these decisions for you.
You might also like...