Reclaiming Holidays During Sick Leave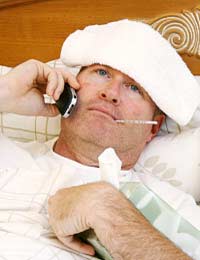 Reclaiming holidays that occurred during sick leave has always been a thorny issue for employers. A recent court case ruling seems to have resolved this issue in favour of the employee.
Employee Holidays Coinciding With Sick Leave
In the past, if an employee's sick leave coincided with annual leave the attitude of most employers was 'too bad'. But a recent ruling by the European Court of Justice (ECJ) found in favour of an employee who took legal action against his council employer. The outcome of this case has caused much controversy, especially among employers. The ECJ ruling means that employees can now reclaim holiday entitlement that would have been lost while on sick leave.
European Court of Justice Employee Holiday Ruling
Madrid council worker Francisco Pereda took legal action against his employers when they refused to change his annual leave entitlement. Mr Pereda suffered an injury just before he was due to take annual holiday leave. His employers refused Mr Pereda's request to change his leave dates but the European Court of Justice decided otherwise. The ECJ found that Mr Pereda should have been given the option to postpone his leave entitlement. The ECJ also found that Mr Pereda should have been given the ability to add the leave onto the following year's entitlement.
The Importance of Paid Annual Leave
The European Union's Working Time Directive emphasises the importance of paid annual leave for an employee. An employee should have a minimum of four weeks annual leave. This holiday leave is vital to ensure that employees can enjoy a number of days intended solely for rest and relaxation. When an employee is sick and using sick leave entitlement they are taking the time to recover from illness. Unfortunately in the past, most employers have taken the view that sick leave coinciding with holiday leave is just tough luck for the employee.
What the ECJ Ruling Means for Employees
The 2009 European Court of Justice ruling means that:
Employees who are sick should be permitted to change their holiday entitlement dates
Changes to holiday entitlement should be permitted if the employee falls sick before or during the holiday
Employees have the right to accrue holiday entitlement while on long term sick leave
Employees can be given the option of having holiday entitled added to the following years leave entitlement
Controversy Over Reclaiming Holiday Entitlement
Many employers are unhappy with the new ruling. Employers who are disgruntled are under the impression that this new rule could lead to widespread abuse of holiday and sickness entitlement. The Federation of Small Businesses (FSB) has claimed that this ruling could be highly detrimental to businesses. Unison, the UK's biggest public union organisation has welcomed this move and claims that the ruling is very good news for employees.
The Private Sector and Reclaiming Holidays
The new ECJ ruling on reclaiming holidays lost due to sick leave is directly effective on the public sector. But private sector employees may not be so lucky. Unless the Working Time Directive is amended, private sector employees might not be able to benefit from this new ruling. Private sector employers who decide to go against the ruling could be on shaky ground if a case is brought to an employment tribunal. An employment tribunal could find that the ruling can be interpreted to include private sector employees as well as the public sector.
Removing the Likelihood of Holiday Entitlement Abuse
There are ways that employers can fight the abuse of employees who may abuse the new ruling. This can include requesting medical evidence such as doctor's notes for short term sick leave. This should prove helpful in cases where sick leave does coincide with annual holiday entitlement. Employers who only pay statutory sick pay (SSP) will probably be less likely to see abuse occurring. Employers who are paying contractual sick leave may feel that requesting medical evidence is the best way to proceed.
Whilst abuse of the new ruling may be a problem for some employers the new ruling is good news for employees. In the past, most employees who were unlucky enough to lose holidays during sick leave had little say on the matter. The European Court ruling now gives employees extra rights that will protect them against lost holiday entitlement.
You might also like...
I've been off work for almost a year, had operation. Started back Feb 2017 on phased return, work using my annual leave entitlement from last year to do this. But now being told I'm getting two public holidays taken off me, as I was still off sick I don't get new year public hols. I always thought we received the annual leave if we didn't work it but just never got paid it!! I work for the council. Can you tell me if this is correct.
Maisy
- 27-Apr-17 @ 7:19 PM
Please help Been with company 18 yrs 2 occasions off sicklast time 2010 chemo/radiotherapy Off sick now with something completely different got sick note for 4 weeks during them four weeks I have a holiday booked Turkey Am I still able to leave the country for a holiday whilst off sick?
Nikki
- 3-Apr-17 @ 12:24 PM
Hey there i have been with my employer since 2005,ive recently not had any days off in 2 years.but in periods previously i had injuries that put me off work for 6 months and 4 months respectively.We are contracted to recieve full sick pay for the 1st sick months an employee is off. Myemployer has our hoildays fixed to suit them (so i've no flexible days)in these periods i was off sick over the years. i was unaware i was entitled to accrue them holiday hours, as there was periods i was off sick that fell on my works fixed holiday period.management never ever told me about ant accruement due to being off sick. so i was completely unaware of this until until now. seem like theyve sneakily robbed me of these holiday hours by not telling me.advice on this? can i claim anything back. or is it too late?
I am currently sick from work,I recieved a 3 week sicknote from my GP after been admitted to hospital i was still ill so went back to my GP where she did more tests and issued me with a further sicknote for 4 weeks. I am into my second week of my sicknote and have a pre booked holiday during this 4 weeks where do i stand with taking this holiday.
Jacqui
- 12-Nov-16 @ 1:46 AM
Can i reclaim my holiday for the week i self certificated or do i need a medical certificate?
Casper
- 26-May-16 @ 6:29 PM
If I go on my planned holiday whilst being signed off work, can I claim my holiday entitlement back thanks
Debs
- 14-May-16 @ 1:52 PM
Had a quad bike accident while on holiday and was hospitalised over night suffered extensive lower back soft tissue injuries.On my return t UK was signed off work for 2 weeks.I have asked my employer for a self certification for the first week so as I can claim my holidays back. She has said she thinks I should have informed them before returning to the UK.Even though my GP signed me off for 2 weeks.Any idea where I stand?
Shafe
- 11-Jun-15 @ 2:25 PM
@Chris - you may want to give Acas a call regarding this question in order to get direct advice, link
here
. I hope this helps.
AboutEmployeeBenefits
- 25-Mar-15 @ 2:52 PM
HiI broke my right foot on holiday on 5th February and went back to work on 20th March and have been told I can only reclaim the the annual leave I had when back home. I believe this is incorrect. I was on holiday in Tenerife when I broke my foot on the third day of my annual leave. I was on holiday for 12 days. I booked annual leave from Monday, 3rd February to Monday 17th February. 11 days annual leave. I think I am entitled to reclaim from Wednesday, 5th February to Monday, 17th February; 9 days. This European Court of Justice ruling of 20th June 2012 in Spain makes my claim valid.
Chris
- 22-Mar-15 @ 11:16 PM
@big geoff - If you have been on sick leave and you take a holiday, your sick pay should rise to your normal pay for the duration of the holiday. If you go back to sick leave after your holiday, then your rate of pay returns to sick leave entitlement. You should still be able to claim holiday entitlement - I'd take it up with your HR.
Pam
- 10-Dec-14 @ 10:00 AM
I have been off work for 11 month due to a car crash I have worked for a company for 25 years I receive sick pay am I intitled to holiday pay
big geoff
- 8-Dec-14 @ 5:18 PM
I have been off for 10 month now after being hit by a car. Now as I am an employee of a small 3 man business and am now recieving esa am i still entitled to my holiday pay
stewart
- 1-Dec-13 @ 12:54 AM