Reclaiming Holidays During Sick Leave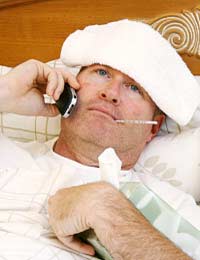 Reclaiming holidays that occurred during sick leave has always been a thorny issue for employers. A recent court case ruling seems to have resolved this issue in favour of the employee.
Employee Holidays Coinciding With Sick Leave
In the past, if an employee's sick leave coincided with annual leave the attitude of most employers was 'too bad'. But a recent ruling by the European Court of Justice (ECJ) found in favour of an employee who took legal action against his council employer. The outcome of this case has caused much controversy, especially among employers. The ECJ ruling means that employees can now reclaim holiday entitlement that would have been lost while on sick leave.
European Court of Justice Employee Holiday Ruling
Madrid council worker Francisco Pereda took legal action against his employers when they refused to change his annual leave entitlement. Mr Pereda suffered an injury just before he was due to take annual holiday leave. His employers refused Mr Pereda's request to change his leave dates but the European Court of Justice decided otherwise. The ECJ found that Mr Pereda should have been given the option to postpone his leave entitlement. The ECJ also found that Mr Pereda should have been given the ability to add the leave onto the following year's entitlement.
The Importance of Paid Annual Leave
The European Union's Working Time Directive emphasises the importance of paid annual leave for an employee. An employee should have a minimum of four weeks annual leave. This holiday leave is vital to ensure that employees can enjoy a number of days intended solely for rest and relaxation. When an employee is sick and using sick leave entitlement they are taking the time to recover from illness. Unfortunately in the past, most employers have taken the view that sick leave coinciding with holiday leave is just tough luck for the employee.
What the ECJ Ruling Means for Employees
The 2009 European Court of Justice ruling means that:
Employees who are sick should be permitted to change their holiday entitlement dates
Changes to holiday entitlement should be permitted if the employee falls sick before or during the holiday
Employees have the right to accrue holiday entitlement while on long term sick leave
Employees can be given the option of having holiday entitled added to the following years leave entitlement
Controversy Over Reclaiming Holiday Entitlement
Many employers are unhappy with the new ruling. Employers who are disgruntled are under the impression that this new rule could lead to widespread abuse of holiday and sickness entitlement. The Federation of Small Businesses (FSB) has claimed that this ruling could be highly detrimental to businesses. Unison, the UK's biggest public union organisation has welcomed this move and claims that the ruling is very good news for employees.
The Private Sector and Reclaiming Holidays
The new ECJ ruling on reclaiming holidays lost due to sick leave is directly effective on the public sector. But private sector employees may not be so lucky. Unless the Working Time Directive is amended, private sector employees might not be able to benefit from this new ruling. Private sector employers who decide to go against the ruling could be on shaky ground if a case is brought to an employment tribunal. An employment tribunal could find that the ruling can be interpreted to include private sector employees as well as the public sector.
Removing the Likelihood of Holiday Entitlement Abuse
There are ways that employers can fight the abuse of employees who may abuse the new ruling. This can include requesting medical evidence such as doctor's notes for short term sick leave. This should prove helpful in cases where sick leave does coincide with annual holiday entitlement. Employers who only pay statutory sick pay (SSP) will probably be less likely to see abuse occurring. Employers who are paying contractual sick leave may feel that requesting medical evidence is the best way to proceed.
Whilst abuse of the new ruling may be a problem for some employers the new ruling is good news for employees. In the past, most employees who were unlucky enough to lose holidays during sick leave had little say on the matter. The European Court ruling now gives employees extra rights that will protect them against lost holiday entitlement.
You might also like...
I was off sick with stress and depression caused by work earlier this year and have been told that I am not entitled to the 3 bank holidays leave as I didn't work them as off sick. They also used leave I couldn't take due to sickness in March last year during a return to work period where they wanted me to have reduced hours for a period, so this has used A/L not taken in March plus days previously booked for this year so I have had to cancel a weeks leave later this year to pay back a deficit. Is this legal?
NHS worker
- 6-Sep-21 @ 2:38 PM
Hi I was involved in a car accident in May 2020 during working from home. In July 2020 I had to go off sick and still haven't recovered due to my car accident and covid lockdown meant I haven't received hardly any treatment or rehab and still awaiting stuff now in June 2021 I have exhausted my sick pay but I'm now told I have lost 13 days holiday as I can't carry over this to the following year. I couldn't take any holiday as I was off sick due to the accident. Can I claim this back as work are saying I can't as I'm only entitled to carry over 4 weeks so I'm losing 2 weeks in total. I work for the NHS aswell so not sure if that makes a difference?
Pablo
- 28-Jun-21 @ 11:11 AM
I went off sick on the 5 dec , was due to go on holiday 3 days the following week but was off with Covid , should I still remain my holidays
Marie
- 18-Jan-21 @ 4:24 PM
Hi there, my employer has asked us to all take some paid holiday during the 1st Coronavirus lockdown but i had to start self isolating before this holiday started. They are now expecting me to use my 4 days holiday and the remaining 10 days isolation they are going to pay sick pay? I have an NHS isolation note, surely i should be off sick when isolating and am entitled to my holiday back to use at another time?
GODAY
- 1-Dec-20 @ 3:28 PM
I previously booked 8 days holiday for Easter this year unfortunately I became sick about a month before and was still on sick up until July this year and my employer says I have lost my 8 days holiday can they do that
None
- 28-Sep-20 @ 7:21 PM
Hi, I have been granted 2 weeks annual leave starting from !st May 2020.However, I got sick right at the beginning of my holiday and I was given a sick note by my GP for 7 days which lead to a request for sick leave for this time. Now, at the end of the 2 weeks, I would like to reclaim my holiday entitlement that was lost because of sickness and use it straightaway. Would that allow me 3 weeks off work per total? Thank you.
I have recently returned to work after 6 weeks off due to stress and bullying which caused me to have a breakdown, in the time over Christmas period i had 4 days holiday booked ,although i have been paid sick leave am i entitled to these 4 days back as i was deemed unfit for work during this time?
Jevo
- 24-Jan-20 @ 8:30 AM
Hi I work at a College which is shut for 2 weeks for Christmas and New Year - bank holidays and the rest of the days taken as efficiency days from holiday entitlement if full time. I am 40 weeks only and 22.5 hours a week so don't work this holiday anyway and receive 9 hours lieu for the efficiency days. However this year I have had an operation and been in hospital overnight 23 December.I have been given a sick note for 4 weeks.Should I be entitled to claim any of the holiday period back?Thanks.
Snowflake
- 24-Dec-19 @ 6:51 AM
I booked some annual leave off of work over christmas months ago im not going on holiday just wantes the time to visit family ect, However 5 weeks ago i was diagnosed with FND which has meant have have been sighned off sick by my doctor as i am unable to work i have been sighned off untill january would i get the holiday days back or not?
shavaun
- 11-Dec-19 @ 12:41 AM
Hi, Please could you advise whether an employer can force a long-term sick employee to carry over their annual leave entitlement into the next leave year as apposed to paying the employee their yearly entitlement? Thanks
Looking for some advice. I have been off work for 7 weeks and have been signed off for another 3 months at least due to severe depression and a breakdown after death of my husband earlier this year. I am paid SSP only. Have provided sick notes. My question is am I able to ask for my holiday entitlement to be used instead of sick? Also I have a holiday booked in November, which they had agreed to before I was sick, and which my psychiatrist says he recommends I still go on with my parents, will work be able to discipline me for going away whilst signed off sick?.
Alison67
- 11-Oct-19 @ 7:32 PM
Been off work with shoulder and neck problem two weeks before summer shut down . Can I claim back holiday entitlement even if I've been away on holiday . Dave
Davesill
- 11-Aug-19 @ 12:44 PM
I've had surgery this week (17.6.19) I work for fife council in an ASN school and break off for the summer holidays next friday (28.6.19) the recovery is 9 weeks so that takes me to the end of my 7 weeks summer holidays. Am I entitled to claim my summer holidays back due to being sick?
Von
- 21-Jun-19 @ 4:33 PM
I am currently recovering from ankle surgery and I have a doctors certificate for 12 weeks off work, in this period I have been out we have had Easter and 2 Bank holidays, am I entitled to have these days back in lieu when I return to work please ?
Tez
- 18-May-19 @ 9:06 PM
I have just had spinal surgery and been signed off until 4th June I had booked holidays from 23 May up to 2 June as I now won't b going on holiday I have asked for those days to b put back in this years entitlement should there b any problems concerning this or am I within my rights I have informed my company I don't want them paying to me
Leddy
- 2-Apr-19 @ 4:56 PM
I have been off sick all last year with chrons and came back to work for 7 weeks. Unfortunately had a flare up and work have said, they will use my last years holidays to cover this. They are now requesting a sick note ( just for their records ) even though they're paying it as holiday. Surely this isn't right. Could you give any info regards this.
Sandy
- 20-Mar-19 @ 12:06 PM
I've been using holiday instead of sick for the last 15 years because of my disability. I was told I could lose my job if my Bradford factor was high. My partner was not happy because we could never go away for holidays.I've only recently found out that I should have taken the time as sick leave not holiday. Is there any way I can claim these days back?
Jester
- 14-Mar-19 @ 12:52 PM
My partner has been off for 5 days and his company has requested a sick note but have told him it has to cover days when the buisness is closed which isn't his fault. Can they do that? He'll only be getting statutory as they won't let him use his holiday.
I had booked my holiday a couple of months before hand. I broke my hand and had sick notes from the hospital before. during and after my holiday. I went on holiday to recuperate. Should I have my holiday refunded as I was on sick leave
Chrissy
- 19-Sep-18 @ 8:51 PM
I have been off sick from work since May 2017 and I have not returned back to work yet. I have not been dismissed yet either. My holiday pay I have accrued in 2017 have been paid to me. As I haven't worked in the college financial year of 2017/18, I am not entitled to any holiday pay, is this right? As I thought you accrue holiday on sick no matter how long you have been off sick.
Lala
- 5-Sep-18 @ 5:25 PM
Recent ?!?!?!?!? The case of Pareda was reported as far back as 2009.....Lazy Lazy Lazy use of the English Language there!!!!
JAneW
- 29-Aug-18 @ 9:34 AM
If Iill during my hoils day leave I told work that change hoils day to sick leave they saying need sick note to proff I got shin gelled I been dr and he said rarther paying £40 to self certificate myself for 7 days but work saying they need dr note is this true many thanks
Kez
- 7-Aug-18 @ 12:27 PM
The Gov website states you cannot be made to take annual leave if you are on sick leave I was off for four months on long term sick and went on a ore booked holiday for 7 days as was advised by dr it would be good for me.Can Ivrequest my annual leave back as I was unwell and unfit for work.My medical mri scans and letters have all been presented at sickness absence meeting.
Debs
- 2-Aug-18 @ 9:31 PM
Had to phone in sick on a Friday the Saturday and Sunday were my Rota days off then I was on annual leave from the Monday... employers have cancelled my annual leave, was just a general sickness bug but where do I stand with this? Apparently they treat it as an on going illness ...
Debbie
- 20-May-18 @ 7:08 PM
Joe - Your Question:
Hi am off 28 weeks of due to back pain I still hav holidays to take am bac ro wrk on the 30th of this month can I take them pior goin bac I hav been told yes but not yet by employer I wrk for nh
---
Our Response:
You would have to discuss this with your employer directly. In theory you can - but the final decision will rest with your employer.
AboutEmployeeBenefits
- 27-Mar-18 @ 9:27 AM
Hi am off 28 weeksof due to back pain i still hav holidays to take am bac ro wrk on the 30th of this month can i take them pior goin bac i hav been told yes but not yet by employer i wrk for nh
Joe
- 26-Mar-18 @ 1:57 PM
I was on holiday over Christmas and due to return to work on 2 Jan 18. Unfortunately I went down with the Flu and my doctor signed me offtill the 8th. I was still not well so he extended to the 16th. I have received a pay slip for the Xmas period and have been paid separately and they have taken back holiday pay. Can they do this as I fell sick on the 2nd and technically not over Xmas. Can I claim this money Back. Thank you
Twiss
- 12-Jan-18 @ 3:17 PM
Tommy- Your Question:
Hi I was I sick leave with stress when my mum died n in that time 3 bank holidays occurred which would normally be covered with a a/ l day I tried to claim them back n was told I can't claim my bank holiday leave back if on sick is this correct I don't think so!
---
Our Response:
You can see more via the gov.uk link
here
, which should help answer your question.
AboutEmployeeBenefits
- 11-Dec-17 @ 3:52 PM
Hi I was i sick leave with stress when my mum died n in that time 3 bank holidays occurred which would normally be covered with a a/ l day I tried to claim them back n was told I can't claim my bank holiday leave back if on sick is this correct I don't think so!
Tommy
- 11-Dec-17 @ 7:45 AM
Shaz - Your Question:
Been employed with company for 16 years in Jan 2018 been on long term sick 3 years Sept 2017 now work are telling me I have lost years holidays as time has run out I have written letters before this asking for holidays to be paid to me and have been ignored at one stage I heard nothing for 8 months until I contacted them by phone after sending 2 letters I am off sick with meneries cervical stetonis and bulging discs and depression and don't know if I will be back to work but they don't seem to care why won't they pay me off due to my illnesses
---
Our Response:
You can see more via the ACAS link
here
, which should help answer your question. You may wish to also give ACAS a call to discuss this matter further.
AboutEmployeeBenefits
- 4-Dec-17 @ 1:54 PM