Legal Absence Responsibilities for Employers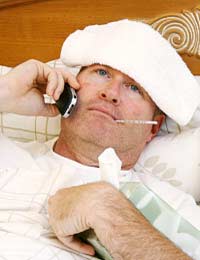 Health and sickness related absence can cause a significant headache for employers. Repeated absence can have a particularly detrimental effect on the health of a company, and this is particularly true for smaller organisations.
The legal responsibilities shouldered by employers remain the same, regardless of the size of the company or workforce, and yet absence can cause particular problems for small businesses where the proportional effect of a single absence is much higher. Regardless of the size of the company, employers have a duty to abide by their legal responsibilities. Furthermore, they should develop a policy that not only minimises the costs of absence but also looks at rehabilitating employees who have missed work.
In the first instance, it should be pointed out that there is no legal requirement for employers to rehabilitate employees who suffer from lengthy absences.
However, there is significant evidence to suggest that a policy of rehabilitation is effective from a financial point of view, as it mitigates the costs of recruitment. Aside from this, however, employers have a number of legal responsibilities to their employees in terms of sickness absence and the general health of their workforce.
Short Term Absenteeism
At the heart of health and absence employment law is the distinction between short- and long-term absences. Employers have a degree of legal discretion when dealing with short term absence.
They should draw up a policy that clearly states the way in which they will deal with persistent short term absenteeism; for example, this policy might state that a formal warning will be given to any employee who exceeds a reasonable set level of absence over a certain period of time. These formal warnings may continue over the next period and may ultimately culminate in the dismissal of the employee. Persistent short term absenteeism is a reasonable grounds for dismissal. However, the employer must be able to demonstrate that they have taken reasonable measures to address the causes of absence; for example, they should consult with the employee in question to ascertain the reasons for their absence. If there is a common reason for all of these sick days then the employer must take reasonable steps to address the cause.
Long Term Absenteeism
In the case of long-term absenteeism, employers have a considerably more stringent legal duty. If the employee in question has been employed for at least a year, the employer must give sufficient and reasonable time for the employee to recover and recuperate before dismissal proceedings are considered.
While there is no set time frame for this, it is assumed that dismissal will not occur during the period of statutory sick pay. Secondly, evidence in the form of medical reports must be sought by the employer. While the employee will have to give permission for their medical records to be shared, the employer may ask for the individual to be seen by a company doctor.
Employers also have a legal duty to consult the employee in question throughout their absence. The purpose of this consultation should be to ascertain reasons for their absence and to investigate ways in which dismissal could be avoided.
In a legal sense this is particularly well codified in the Disability Discrimination Act (1995), which states that employers must take reasonable steps to alter the employee's working patterns, or the environment in which they operate, to ensure that they can continue in employment after their illness.
Employee health law is a complex area, and many employers have fallen foul of new legislation. As such, it is important that you consult with a relevant legal professional if you have any concerns regarding your company's sickness absence policy.
You might also like...