Quiz: Would an Incentive Scheme Be of Benefit?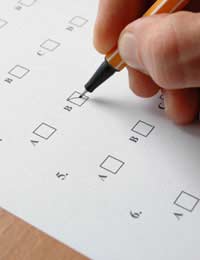 Incentive schemes have become a very popular form of employee benefit as they work as a rewards scheme for the most productive people in the company.
By linking benefits to targets it means that employees are encouraged to work hard and are rewarded when they do. They are most commonly used in sales based jobs but is it something that could work well in your company? Take our quiz to find out if an incentive scheme should be your next step.
Do your employees generally lack motivation?
a) Yes, it can be difficult to get them doing much
b) As long as they can see that they are appreciated then work well
c) No, they are all personally motivated to do their jobs
Are sales important to your business?
a) They would be if anyone was any good at making them
b) Yes, they are a key area in our business
c) Our business is not very sales based
Do you set your staff targets?
a) No that is not something that we have considered doing
b) Yes, we are very target driven
c) We have found that it is not necessary because our staff always go above and beyond
Do you offer your staff away days?
a) We have but no-one really wants to go
b) It is something that our staff have said they would like
c) We do this and it is very popular
Do you give your staff bonuses?
a) No, we don't do this
b) Yes, but we would like to our a fairer system in place
c) Yes, and helps to keep our staff motivated
Are there are a lot rifts between departments or employees?
a) It's really quite bad and divisive
b) No, everybody seems to respect each other's roles
c) We work hard to foster a inclusive environment
Do you have staff to set up an incentive scheme?
a) No, they are already very stretched
b) Yes, we have a great team who already handle employee benefits
c) We outsource our benefits scheme and could do the same for incentives
Mostly As
While an incentive scheme would probably be of benefit to you, there are more important issues that you need to sort out in your company first. You need to find a way to encourage and motivate your staff or maybe think about employing new people who are more willing to work hard.
Mostly Bs
It sounds like an incentive scheme would be a great move for your company. You are already treating your staff well and with sales and targets being a key area of your business, it would be good to directly reward productivity.
Mostly Cs
Whatever you are doing, keep doing it. Your staff are happy and productive and feel appreciated by your company. It may be worth looking at other employee benefits but and incentive scheme is probably not quite right for the needs of your company.
If you decide that an incentive scheme is right for your company then you need to find a way to administer it effectively as you don't want it to do more harm than good.
You might also like...