Employee Incentives to Help Quit Smoking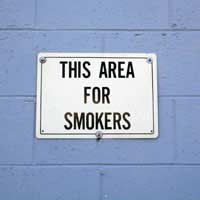 The government have announced their 10 year plan to decrease the number of smokers in Britain to 10% by 2010. Employers can help employees who wish to quit smoking by offering a range of incentives including financial bonuses.
Are Smokers in the UK Being Hounded into Giving Up?
When the smoking ban came into effect in 2007 it was thought there would be an outcry from smokers. There was actually little protest to the ban, and far from being hounded most smokers actually want to give up. The escalating price of cigarettes in the UK, and of course the negative health effects, are the major incentives to quitting. Critics of the smoking ban do claim that smokers are being treated as social pariahs. But the choice to smoke indoors and in wide open public places is still available.
What Difference Did the Smoking Ban Make to Employees?
When the smoking ban was introduced it outlawed smoking in the workplace. There have been reports in the press of employees who have been fined for repeatedly breaking the law by smoking on work premises. In the past, smoking was actually permitted in offices and a smoker could light up even if they were sitting next to a non smoker. Smoking areas such as rooms designated for smokers were common but this is now a thing of the past. Now, having a cigarette will mean leaving the work premises to an outside area.
How Are Smokers in the Workplace Encouraged to Quit?
Employers have used a number of different incentives to help their employees quit smoking. Councils and private employers have paid for nicotine substitutes for employees who think they may have trouble quitting. Financial incentives are seen as the best way to help a smoker quit. Employers have taken the option of paying employees a certain amount of money if they quit smoking for a certain period of time. Although financial incentives are popular with employees, not all employers are keen to try this method due to financial considerations.
Why Would Employers Pay Workers to Quit Smoking?
Financial incentives given to employees to quit are recommended as the best incentive. Retaining a valued member of staff with a small amount of financial compensation should not be too much of a hardship for employers. The financial incentives are not huge amounts of money. Usually smokers are paid a few hundred pounds if they can achieve six months without smoking. Employees can also be given a financial bonus if they finish a smoking cessation course.
Aren't Non-Smoking Employees Annoyed About These Bonuses?
Occasionally there may be some disgruntled employee voices when smokers are paid to quit smoking by the bosses. On the whole, most non smokers know hard it is to quit smoking. Nicotine is one of the most addictive substances and quitting can lead to severe mood swings; not great fun in the workplace. Employees who quit smoking are also not nipping out of the office every hour to catch up on their nicotine intake. Extra cigarette breaks alone are usually more of annoyance to non smokers in the workplace.
Is There More Bad News For Workforce Smokers?
Definitely, and the news is that many employers are already refusing to employ smokers. Some UK companies have refused to hire smokers even with the promise that they would not smoke during work hours. One UK employer fired a member of their staff only 15 minutes after she had smoked a cigarette. Many employers forbid their employees from smoking while wearing a company uniform, even if they are off duty. One company in England informed employees that their non smoking rule extended half a mile from company premises.
Isn't Refusing to Hire a Smoker Discrimination?
Although this may seem like discrimination there is no law that would prevent an employer from refusing to hire a smoker. An employer is quite free to employ whoever they wish. An employer is quite within their rights to refuse work to a smoker as long as no discrimination laws have been broken. In the future, the refusal of work or being fired may be the best incentive for an employee to quit smoking. It looks like the next step in a smoke free workplace could be smoke free employees.
You might also like...