Increase Employee Motivation And Productivity With Incentives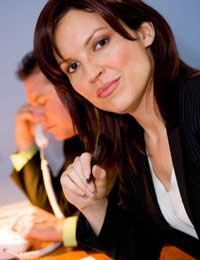 One of the major benefits of incentives is the ability to increase employee motivation and productivity. A few well-considered incentives can work wonders in creating a more productive and harmonious workplace.
The Need For Employee Incentives
Employee incentives are rewards given to staff, usually in relation to work performance. Incentives not only act as a gesture of appreciation from employers, but will be a benefit to the employee. This benefit can take many forms and can include bonuses or paid time off. There are many advantages for an employer who does decide to introduce employee incentives into the workplace, too. Motivated employees are productive employees, and this can make a significant difference to a company's profits.
The Benefits Of Incentive Schemes
There is nothing worse than unmotivated staff, which can have a seriously damaging effect on a company's profits. Incentive schemes not only increase an employee's motivation, but also lead to other benefits for the employer. Employees are less likely to take sick days if they are motivated and have goals. Satisfied employees are also more loyal to a company and this can increase retention of staff. Loyal staff means employers don't need to spend money on recruitment and training of new employees. Incentives, especially pay incentives, may seem like a financial outlay, but this can be recovered in other reduced costs.
Creating A Harmonious Workplace With Incentives
Satisfied employees will mean a more harmonious and productive workplace. Employee incentives are a great way to boost morale throughout the working environment, and they create mutual respect between employees and employers. Staff will recognise that employers are not just 'in it for themselves' when offered incentives such as profit sharing.
Notifying Employees of Incentive Targets
Profits are a company's lifeblood and employee incentives are a small price to pay for increasing these profits. Long-term incentives can increase long-term productivity and profits, and employees should be aware that bonuses depend on increased profits. Employees also need to know how the incentive schemes work and how they will benefit from them. Targets should be defined from the beginning to ensure employees are aware of how they can reach and even exceed the required levels.
Employee Performance-Related Pay As An Incentive
Performance-related pay is a common incentive that employers use to increase motivation and productivity. But it's only one of the ways that financial rewards can be used as an incentive. Other financial incentives can include bonuses for teams or individuals who meet or exceed targets. Another common incentive is profit sharing, where the higher the company profits the higher the financial reward will be for the employee. For many staff, a financial bonus on top of their salary is enough to increase motivation, with the knock-on effect of increased productivity.
Consult With Employees On Incentives
Employers can go one step further by consulting with employees on the available incentives. Not all employees will be impressed with financial incentives, and some may see improvements to working conditions as a favourable incentive. Employers can decide on a mix of different incentives if the profit margin does rise with increased employee productivity. This can also be a way to test out which incentives work on a temporary basis, before implementing long-term incentives. A simple employee survey should be the first step towards obtaining an idea of the desired incentives.
Other Types Of Employee Incentives
There is a range of incentives that can be used to increase motivation and productivity. These can include:
Additional paid leave for reaching set targets
Gift certificates and discount vouchers for stores and services
Paid social nights organised by the company
Paid themed days such as spa days
Entertainment and leisure passes to health centres and cinemas
Employee lunches paid for by the company
Improvement to the working environment, such as crèches and introducing flexible working hours
Event days for employees and their families
Employee incentives are one of the most popular ways to increase productivity and motivation. An employer with a demoralised and unproductive workforce should consider the use of incentives. While some employers may think they cannot afford employee incentives, the harsh reality is that their profits may be affected without them.
You might also like...