Benefits for Women in the Workplace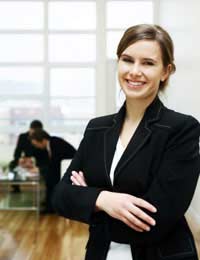 However far equality in the workplace has come, it can still be difficult for women to balance a successful career with raising a family. There are some employee benefits that particularly benefit women and help them juggle their career and home life a little better. If you can find an employer that offers a good package and takes into account your needs, then make sure you make the most of what is on offer. Consider your needs both before, during and after pregnancy and how your needs may change as your family grows.
Maternity Leave
Maternity leave is not technically an employee benefit as every woman is entitled to a certain amount by law but some employers are much more generous than others. The statutory rules are that an employee must receive 90% of her salary for the first 6 weeks and then up to £135.46 for up to 39 weeks. However, some employers will pay full pay for a certain amount of time, with some offering up to a year which can make a huge difference to a new mother.
Childcare Costs
Childcare can be very expensive and is always an issue for working mothers who obviously want the best for their children while they work. Childcare benefits vary from company to company and can range from on-site nurseries to childcare vouchers. Childcare vouchers are often offered on a salary sacrifice basis but these offer significant savings for both the employer and employee and can reduce the burden of paying for expensive care.
Flexi Time
The nature of working hours is changing and employers are realising that for many people, especially women with children, working flexibly is important. This kind of benefit is fairly cheap to implement but can be very popular. Under the law women with young children have the right to request flexible working hours and employers are becoming better about granting it. This may include starting or finishing at different times, job sharing, or working from home.
Medical Insurance
A popular employee benefit is private medical insurance. When you are younger you may not consider this necessary but during pregnancy or when you have young children this can be a very useful benefit to have. Before choosing it, make sure that you are clear about what is covered as you don't want to be caught out further along and the benefits available can vary significantly.
As a woman, you will often find yourself torn between wanting a fulfilling career and needing to care for your family. Luckily, employers are now much more aware of the need to help women balance their lives. Choosing an employer with a generous maternity package is a good start if you are planning to start a family and you may also want to consider private medical insurance. Companies now need to consider any requests for flexible working and picking an employer that has a good reputation in this field can really make a difference. Finally, childcare is always an issue so look into your company's benefits in this area.
You might also like...