Innovative Employee Benefits to Attract Employees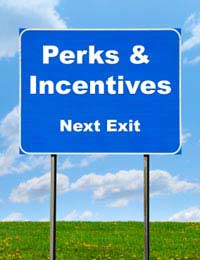 Employee benefits are one of the methods used by employers to entice new employees and to maintain loyalty among present employees. Innovative employee benefits can give employers a significant edge in attracting new employees.
Benefits of Implementing Innovative Employee Benefits
Wise employers know that to attract the best employees they need to offer something that competitors do not. Innovative employee benefits are one way of beating the competition when it comes to attracting the best candidates for the job. Competition for first rate professionals can be fierce and in many cases an excellent salary just isn't enough. Employees expect a full range of employee benefits including occupational pensions and medical insurance. Employers who go above and beyond the run of the mill employee benefits can attract employees and keep them for longer.
What Counts as Standard Employee Benefits
There are a few benefits that employees will expect as standard. These benefits are usually seen as priority and can include pensions, medical, dental and life insurance and company car schemes. Aside from priority benefits a number of companies will add extra enticements. These employee benefits can include discretionary bonuses, performance related bonuses, profit sharing, gym memberships and company product's discount schemes. Employers who then go the extra mile above standard employee benefits packages may be looking at some extra loyal employees.
What Are Innovative Employee Benefits?
Innovative employee benefits are not the normal or standard benefits. They can sometimes be seen as unusual but can actually be very worthwhile. For example, an employee travel pass that can be used on transport within the employment city can save employees a large amount of money over a year. Subsidised meals in a staff canteen can be another money saver for employees. Anything that can boost a salary or can be viewed as a bonus can be seen as an employee benefit and can attract employees to a company.
Innovative Employee Benefits that Work
There are certain employee benefits that have been introduced recently that are guaranteed to attract employees. Flexible working hours have been introduced by a number of forward thinking employers. Permitting employees to work from home or set their own working schedules can attract employees. Single parents who have to fit work schedules around children are particularly enticed by flexible working hours. As an employee benefit this is one of the easiest and most cost effective benefit schemes to implement.
Increase in Elderly and Child Care Employee Benefits
Elderly care benefits have also been on the rise in forward thinking businesses. A large segment of the UK workforce now find themselves in the position of caring for elderly relatives. At the same time these employees can also be looking after their own children. Employee benefits that take these two issues into consideration can be particularly attractive to employees.
Examples of Innovative Employee Benefits
Employers and human resources departments can get creative and come up with some winning and innovative employee benefits. Examples of innovative benefits can include:
Flexible working hours for employees
Childcare vouchers and on site crèches
Benefits that include use by members of the employee's family
Transportation schemes including travel passes, company car allowance and rent a bike schemes
Subsidised meals at staff canteens or food vouchers
Certain companies do offer subsidised housing to employees
Telecommuting and working from home options
Certain companies do offer use of company accommodation at holiday centres
Holiday pay funds where employee contributions are exempt from National Insurance contributions
Talk to Employees before Implementing Employee Benefits
One way to ensure employees are happy with the range of benefits offered is to communicate with them. Employees will have different views on what the worthwhile benefits are. Talking with employees and taking their views into consideration can mean streamlining benefits packages or offering flexible employee benefits. This is one way to ensure employees are satisfied with the benefits they are receiving and to maintain staff loyalty. Talking to employees will also be a good idea before updating any employee benefits packages.
A good range of sensible employee benefits will always attract employees to a company. Many people are fully aware of companies in the UK that offer excellent employee benefits packages. These perks can not only enhance a company's reputation but can also help an employer to attract and keep the best possible employees.
You might also like...