Employee Benefits That Include Family Members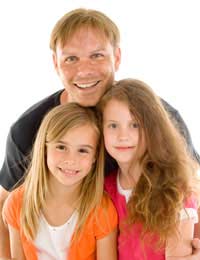 Employers who offer benefits to employees that include family members can improve staff loyalty and increase productivity. Larger businesses are aware of the advantages of extending benefits to family members such as children's Christmas parties and medical insurance.
Disappearing Extended Employee Benefits in the UK
Many companies in the UK have had to cut a number of employee benefits including benefits that extend to family members. When tough economic times hit businesses the employee benefits are often withdrawn in order to save money. Extended employee benefits that include family members are expensive especially when UK businesses are trying to tighten their belts. But extended employee benefits have been a tradition in many small to large businesses in the UK. Withdrawing extended benefits can have a seriously detrimental effect in the workplace.
Examples of Extended Employee Benefits
Any employee benefits that include the employee's family can be classed as extended employee benefits. This could be Christmas parties specifically for employee's children or paid Christmas parties that include partners and spouses. Insurance plans such as medical and dental care and life insurance that include the employee's family members are also a good example. Businesses will often give discounts on company products that can also be used by the employee's family. Other worthwhile extended employee benefits can include childcare vouchers and onsite crèches.
Advantages of Extended Employee Benefits
Benefits that extend to the employee's families are much valued by employees and very worthwhile for employers. Employees who enjoy extended benefits often value their employers more and have a greater respect for the company they work for. Employers who provide these benefits can expect a lower turnover of staff as employees are likely to remain loyal. This type of benefit also helps to increase productivity by a workforce that feels valued by their employer.
Offering Extended Employee Benefits without Cost
Employers can offer employees benefits that include family members without eating into their budget. Flexible and voluntary benefits schemes are increasingly being introduced into the workplace. These extra benefits are paid by the employee through schemes such as salary sacrifice and will help to keep costs down for employers. Flexible and voluntary benefit schemes do give the employees a greater amount of choice over the benefits they wish to have. Employees can choose whether or not they wish benefits to extend to family members by using flexible benefits.
Communicating with Employees on Extended Benefits
Communicating with employees and their family members will help employers to connect more with their employees. Employers can place their flexible and voluntary benefit schemes online for employees to view. Employers can also send brochures to employees that can also be read by family members. Taking these steps will help employers become actively engaged with employees and their family members.
Are Partners Classed as Family Members?
Traditional family models have changed over the years and forward thinking employers will recognise this. Many employers how now moved away from stipulating that extended family benefits are only for spouses or children. In a number of cases the definitions will often be decided by the insurance companies. Larger companies often have more choice over the definitions and this can be at the employer's discretion. Aside from insurance benefits it is usually up to the employer as to how far or to whom the employee benefits can extend to.
Wide Range of Extended Employee Benefits
Although extended insurance employee benefits are common there is a wide range of benefits that can include family members. Extended employee benefits can include:
Discounts and cash vouchers for company products
Flexible maternity and paternity benefits
Flexible working hours for working parents
Gym and fitness memberships for employees and their families
Company holiday homes that can be used by employees and their families
Low cost accommodation options including subsidised housing
Generous relocation packages included employment assistance for spouses
Family social days held by employers to introduce new employees and their families
Single employees can choose to include their family and friends through flexible and voluntary benefits options
Employers who are considering withdrawing extended employee benefits should consider flexible or voluntary options. Talking to employees before withdrawing benefits should be one of the first routes to take. Many employees will favour flexible extended benefits rather than lose these important perks.
You might also like...