Advantages of Healthcare Benefits to Employees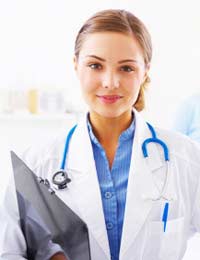 Healthcare benefits are a popular and important part of many companies' benefits packages. Frequently, what is perceived to be a good benefits offering will consist entirely of access to an occupation pension scheme, or to a stakeholder scheme to which employers make a contribution, and a fairly comprehensive package of healthcare benefits. As such, it is important the employers fully consider the healthcare benefits that they offer. The advantages of healthcare benefits for employees are clear in some cases, but the extent of these advantages will depend on the nature of the benefits being offered.
Insurance
Most healthcare benefits packages include some kind of health or medical insurance as standard. There are a number of clear advantages here for employees; in the first instance, they benefit from the peace of mind that they will have rapid access to healthcare when and if they need it. Depending on the size of the organisation and the employer's arrangement with their healthcare provider, the nature of this access may differ; for example, large organisations with arrangements with providers like BUPA may have on-site GPs, which employees can visit as and when the need arises. This has advantages for both employers and employees; the latter know that they can get an appointment at short notice, when it suits them, while employers benefit from a reduction in absence as the necessity to miss work to attend doctors' appointments is removed.
Employers may also extend healthcare benefits to the immediate family of employees. Clearly, this has significant advantages for employees and their families, as employees are confident that their dependants will be treated quickly in non-emergencies. Furthermore, both employer and employee benefit as employees with young children will not have to take time of work to accompany them to appointments held during work hours.
Most healthcare insurance will also offer private emergency treatment and operations. Again, this provides a significant advantage as employees and their family (if the benefit is extended to these individuals) can be confident that they can arrange to have operations at a time that is suitable and fits in with work and personal arrangements. This means that employees are not subjected to lengthy NHS waiting times and inflexibility with regard to dates. Furthermore, recuperation can be timed to coincide with less busy times at work if this is appropriate.
Assessments and EAPs
More comprehensive healthcare benefits also sometimes include things like healthcare assessments. These provide regular check-ups and consultations with healthcare professionals to ensure that employees are healthy and working safely. Clearly this is advantageous for all involved, as it ensures that illness and other health problems are prevented before they materialise. Furthermore, Employee Assistance Programmes (which are investigated in more detail in articles elsewhere on this site) can help employees to deal with personal issues that may be interfering with their mental health and their ability to perform at work. The provision by an employer of a professional counsellor for this purpose can help to take a significant weight of employees' shoulders.
If you are an employer considering implementing healthcare benefits, it should be clear that many of these advantages also apply to your business. As such, the cost of these benefits is frequently offset by savings made elsewhere. Similarly, as an employee you should be aware of the advantages offered by your healthcare scheme, and you should ensure that you make use of these whenever they are needed.
You might also like...