Benefits of EAPs to Employers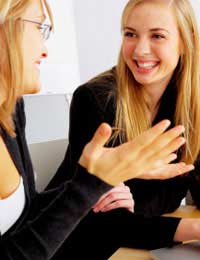 Employee Assistance Programmes (EAPs) are a relatively new tool at the disposal of British employers. EAPs have been popular in the United States for some time, where it is understood that a holistic approach to employee benefits and occupational wellbeing renders the most significant results. In Britain, however, most employers seem to make do with offering a benefits package that consists of access to a pension plan and, perhaps, some form of health insurance. There are, however, a number of significant advantages for employers who offer a more comprehensive benefits package. EAPs have a number of associated benefits for both employers and employees.
The benefits of EAPs to employees are fairly obvious. Staff get access to an independent counsellor who can offer advice on any aspect of their personal life that is impacting negatively on their ability to do their job. This might include major life events such as births or bereavements, afflictions such as stress or substance abuse, or legal or financial problems. It should be remembered, however, that many EAP practitioners deal only with physical or psychological problems; as such, some employers choose to offer legal and financial advice as separate benefits. More information on this is available in an article elsewhere on this site.
Productivity
The benefits of EAPs for employers may not be so clear. However, many studies have suggested that organisations which introduce these benefits will see higher staff morale and productivity, as well as a reduction in medical costs and sickness absence, and lower staff turnover. Furthermore, EAPs can help to create a sense of cohesion both within the workforce, and between employer and employee. Furthermore, depending on the nature of the employer's arrangement with the EAP practitioner, the company may also benefit from an individual who is able to consult directly with individuals and teams who require supervision or education.
Nature of the Scheme
It should be noted that the benefits of an EAP will vary, depending on how effectively the scheme is implemented. In the first instance, many employers have reported that employees are either unaware or mistrustful of the EAP and counselling services generally. There seems to be a sense that employers do not believe that the counsellor is, in fact, independent of the employer. It should be remembered that EAP practitioners have two clients: the employer and the employee. They owe an equal responsibility to each, but they are bound by confidentiality requirements. As such, the EAP will never pass information gained from an employee onto their employer, unless they are legally obliged to do so. In order to reinforce this fact in the eyes of employees, many companies prefer to keep their EAP off-site, with some offering a phone number that can be called at any time. This also has other advantages, particularly for the cohesion of the workforce generally; many employees feel uncomfortable making use of the EAP if they feel that other employees will be aware of it. However, taking the EAP off-site ensures that employees can make full use of the scheme without fear for their privacy.
You might also like...