Checklist: Understanding Your Pension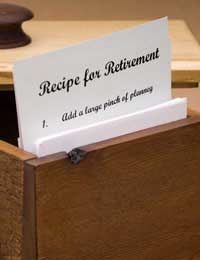 When you start out in the world of work, retirement seems like a whole life time away but it is important that you start thinking about it early. Choosing a company that has a good pension scheme is a sensible step and will make a big difference when you are ready to retire. Follow our checklist to find the answers to the important questions about your pension and make sure you can understand this important benefit.
Why Have a Pension?
A pension is a way of saving money for retirement so that you able to support yourself once you give up work. By making regular contributions over the years you will build up a pot of money that will incur interest and leave you better off when you retire. Without this you will have to rely on other investments such as property, or on the state to support you.
Don't I Have a State Pension?
Everybody is entitled to a state pension depending on how much national insurance you have paid over the years. This pension is not very high though and in years to come it may even disappear completely. By having a occupational pension you are giving yourself the best chance of a comfortable retirement and protecting your future.
What is a Final Salary Pension?
A final salary pension is when you are guaranteed a set amount each year after you retire, usually a percentage of your previous salary. These pensions are very popular because they are usually much more generous and are not dependent on what the markets do. Many companies have stopped offering final salary pensions though as they cannot afford them.
What is a Money Purchase Pension?
A money purchase pension is the most common type and is when the employee and employer contribute monthly to the pension pot. This is then invested in the stockmarket and once the employee retires they can access the money receive a yearly income depending on how much they have.
What is My Employer's Contribution?
Your employer's contribution will vary depending on the company and the scheme but often they will match whatever the employee contributes. Make sure you know the terms of your pension before you accept it. It is worth investing as much as you can afford in your pension as this will then be effectively doubled by your employer's contribution.
How Much Will I End Up With?
How much you will end up with in your pension depends on a number of factors. Firstly, how much you invest and when you start paying in – the younger the better as your money has more years to gain interest. Secondly, how well the stockmarket performs and what level of risk your investment has.
Pensions may seem like a boring subject but they are very important for securing your future. Make sure that you understand what your employer offers, what role you need to play and how much you can both contribute. While you will still receive a state pension, an occupational pension is likely to give you much more and although final salary pensions are being faded out, money purchase pensions are a worthy alternative.
You might also like...